more thoughts
whitepaper:
accelerating
business
growth
with
Google
Cloud
Platform
More and more small and medium-sized businesses are shifting from on-premise deployments to cloud-based solutions. Understanding the opportunity your business could realise from the cloud can help to power your digital transformation efforts.
results seen with Google Cloud Platform
As small and medium businesses (SMBs) look to adopt cloud technologies, customers using the Google Cloud Platform are seeing improved performance, reliability, and scalability on a platform that's both cost-effective and efficient to operate.
To help you in your decision making, we're offering you a free report produced by the wonderful people at IDG sponsored by Google Cloud.
In this IDC whitepaper, you will learn how small and medium businesses can leverage Google Cloud Platform to accelerate business growth through increased productivity and scalability while achieving greater cost efficiencies.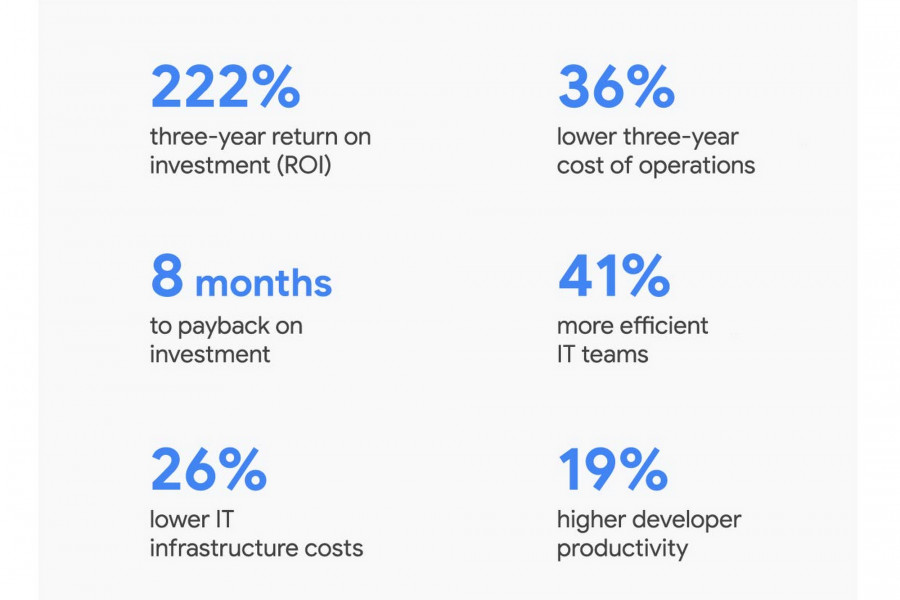 a sneak peak
As a bit of a sneak peek of some of the insights Inside, the IDC's research found that small and medium-sized businesses saw:
222% return on investment (ROI) over three years
36% lower costs of operations over three years
8 months to see payback on the technology investment
41% more efficient IT teams
26% cost reduction in IT infrastructure
19% increase in developer productivity
lowering IT operation costs
A good reason to consider Google Cloud is that SMBs who run their operations through Google Cloud Platform saw an average lower IT infrastructure cost of 26%. One business user of the platform stated it cost them ~15% less than other providers to utilise serverless computing and VMs (virtual machines).
Google Cloud Platform costs less because it has a lot of serverless features that are cheaper than the other cloud platforms we considered... We run and then destroy VMs on a regular basis, so serverless saves us money and this was one of the factors. Google Cloud Platform costs about 15% less than the others.
Take a deeper look through the whitepaper and see how your SMB could see improvements in its productivity and realise cost efficiencies with Google Cloud Platform.
get your complimentary copy
By clicking "Submit your details" you are agreeing to be contacted by Dynamo6 and your data processed in line with our privacy notice. You can unsubscribe at any time.
about the research
The research was carried out in June 2020, interviewing organisations worldwide across financial, software, health, insurance, and technology verticals. All organisations interviewed for the research have fewer than 90 employees. The research is sponsored by Google Cloud.
references
Quote Source: IDC Whitepaper, sponsored by Google Cloud, The Business Value of Improved Performance and Efficiency with Google Cloud Platform, Doc #US46610620, July 2020.