More Thoughts
we've
won
the
2017
Professional
Services
Award!
Dynamo6 is Hamilton-born and raised. From an idea to the first office in Garden Place. Our HQ is now on the corner of Ward and Victoria Street, so the Hamilton CBD is where we call home.
why we love the 'tron
The livelihood of the streets, the amazing cafes and restaurants to choose from for team lunches on Fridays; how can you beat it. With a modern team, this vibrancy is what we thrive off.
When we heard of Hamilton Central's CBD Success Awards we knew it would be a fun night regardless.
a night with Hamilton's finest
Held on the 6th September 2017, at the beautiful Riverbank Lane on Victoria street. The stunning space was festively decorated for the occasion. The CBD awards saw Hamilton's finest gather together to eat (shout-out to Milton's Canteen), drink, and celebrate the awesome city it's becoming!
While all this was fantastic, the awards were the highlight. Dynamo6 was nominated in two categories; the Professional Services Award which recognises excellence in delivering a professional service, as well as successes and achievements throughout the past year, and the Improved CBD Site Award for the refurbishment of our current office: The Beggs Wiseman building.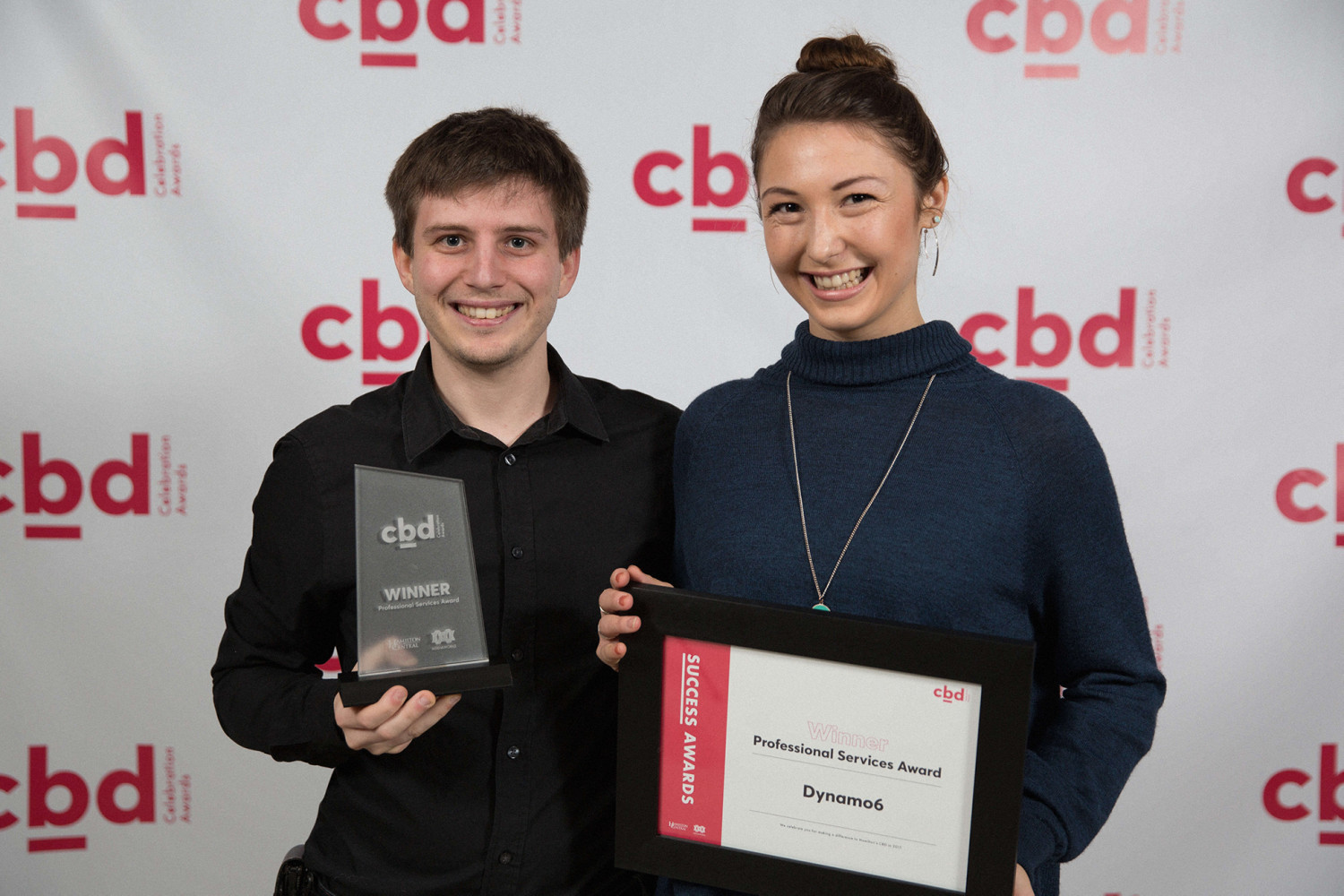 thank you!
When they announced Westpac as highly commended, and NAI Harcourts as the runner-up we never thought Dynamo6 would follow the words, "and the winner is…" but it did! After some excited, and honestly, stunned silence we collected the new office decoration…I mean trophy… and thanked our fans. We did not win the second category for improvement of a CBD site – Bowl and Social deservedly took it out.
The Professional Services Award from Hamilton Central Business Association means a lot to us. It cements that our customer-centric philosophy is translating into our actions. The stereotype of awkward, no-fun engineers is completely debunked in our office, and within our customer interactions. Can you say skateboarding in the office? It's such an honour to be recognised for something we take a lot of pride in doing. It's not a rare sight to have one of our clients popping up for a chat and a cup of tea and we wouldn't have it any other way.
"so, what do you guys do?"
We want to set the story straight because we got asked this a couple of times that night… Long story short: we re-imagine technology.
We work with organisations to get to the heart of what they're trying to achieve, understand their challenges, and find opportunities for change. We're specialists in helping organisations transition to modern cloud-based solutions. Our team love to build creative technology solutions to help people work faster, easier and smarter. We also offer ongoing support to keep IT systems healthy and ensure they continue to evolve with an organisation.
It's been a big year for Dynamo6, we've added 8 new team members and moved into a stunning new office on Ward Street. All that plus this award make for a pretty epic 12 months!
Here's to all the Hamilton businesses providing awesome service, and making this city awesome. #lovethetron